SADOT

Sadot was one of two Israeli folkdance troupes Moshe directed, the other being Eilat, which was the senior group. I have records for Sadot from 1969 to 1974.

Does anyone remember when the troupe was founded? When it last performed? Does anyone have information on Eilat?

Please send any photos and memorabilia you may have.

The only pictures I have are these from an out of focus photo shoot we did once for publicity photos



~Guy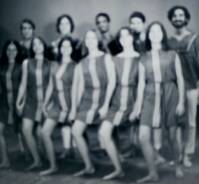 Mike Rosenbaum, Guy Haskell, Fred Pearson, Danny Ross, Antonio LaGreca

Debbie Glass, Debbie Cohen, Miriam Miron, Susie Siegel, Ronnie Katzenstein, Allison (Goldstien?)

We have ordered the Sadot Performance on the Mike Douglas Show for a remastering fee of $400. Please help defray the cost. Contact Guy at ghaskell@indiana.edu. If you are interested in a copy, please contact me. See the original TV Guide notice by clicking on the link above.